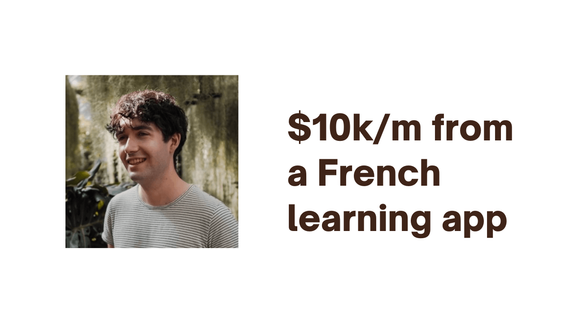 Making $10k/m from a French learning app
Comments
Can we edit the title to be /month?
m is usually minute, I went in expecting a vulnerability writeup, although the sub-header made it quickly clear it was a write-up of a product.
Good clear write up of the product and it's journey though. Nice "boring technologies" of wordpress and rails.
Cheers for posting this. That's my site! It's very cool how he learned to code so quickly as well. I'm glad Benjamin can share his story with everyone.
So many people want to learn languages as well so it's a huge market to sell to. Very smart.
Plenty more stories like this coming out every Wednesday in the newsletter btw https://www.highsignal.io/newsletter/
Wow! I was a French major in college but my ability to speak French plummeted after I returned from studying in Paris. I love this app's recording feature! It's so helpful to record yourself speaking and then compare your recording to the native speaker. I only wish the app had an advanced track! I'm pretty sure I'll have exhausted all the intermediate lessons by 6 months from now.
In any case, I am absolutely delighted by this app and it has brought out my inner Francophile :)
I'm (re)learning French this year and I'll check out this app, looks cool.
It seems many newer language apps are starting to focus on the "comprehensible input" method touted by language learning influencers like Steve Kauffmann, and at least for me it's definitely working. Comprehensible input (video content, books) along with weekly practice on iTalki has absolutely skyrocketed my language learning progress and really I only put in ~5hrs a week. Lots of money in the post-covid market for language learning as it was a hobby a lot of people picked up in quarantine.
Personally I find it hard to believe that it's simple for people to start profitable online business. Some people might be lucky and can promote themselves well, but how many fail? How often freelancers are approached with "great ideas for application", but there's zero chance to find paying clients for it. How much can anyone do alone, in comparison to all these big corporations or even smaller companies with dozens employees dedicated to some specific niche?
Maybe I'm overthinking, but I can't see how single person can do this, without really good idea.
> My income can be hard to predict but I expect to pay myself a salary of 70 - 90k this year.
This is actually pretty low for a software developer.
From the article -
> The French Together blog is built on WordPress and the combination of GeneratePress + GenerateBlocks and is hosted by Rocket.net. The French Together app uses Ruby on Rails and is hosted on Render.com.
> For emails, I just use Bento + ConvertBox. My general philosophy regarding tools is to always try to use the simplest solution possible.
What I learnt from this:
1) a real expert (a French teacher)
2) saw a problem in his area of expertise
3) decided to start solving it even though he had no clear monetisation plan
4) used the simplest technology he could find to meet his aims
5) It is a popular field
I did French for 5 years at school, got taught lots of grammar rules (which I never learnt in English!). The net result is that last time I was in France I had to point at things on the menu. I always thought conversational French would have been much more useful.
Well done on the app
I have so many questions: - you have paid voice actors on board? Whats the revenue? - what made the users the happiest? - how do you prevent nerd sniping yourself when learning is more fun than creating content?
Posts like these really need to provide proof of income.
"I make $xx,xxx per month from MySite, click here to visit MySite!" has become an extremely popular marketing tactic, even though in reality the site could be making next to nothing.